LGN Run Club's Inter Advertising 5km | 2011 | Regents Park
LGN Run Club's Inter Advertising 5km | 2011
Well done to all the advertising lactic loving people who took part in the 2011 LGN Inter Advertising 5km, your running energy created a unique atmosphere and each team displayed a noble running effort very much in keeping with Henry 8th's old Regents Park stomping ground.
If you and your team were inspired by the running rush and would like to discuss providing an in-house Run Club service to your employees as per DDB, Omnicom, McCann Erickson, Vizeum, MEC, M&C Saatchi et al please see down loadable LGN pdf below or contact info@lgnwellbeing.com
And for those you who were interested in LGN's Ethiopian charity partner Tesfa and might be keen to buy a charitable running Christmas gift this year please check out http://www.tesfa.org/store?item=1281154722 and the pdf downlaod at bottom of the page.
And like the LGN running gift that just keeps giving we are also very happy to provide a whopping 15% shopping discount from our partners at Runners Need - see pdf download at bottom of page.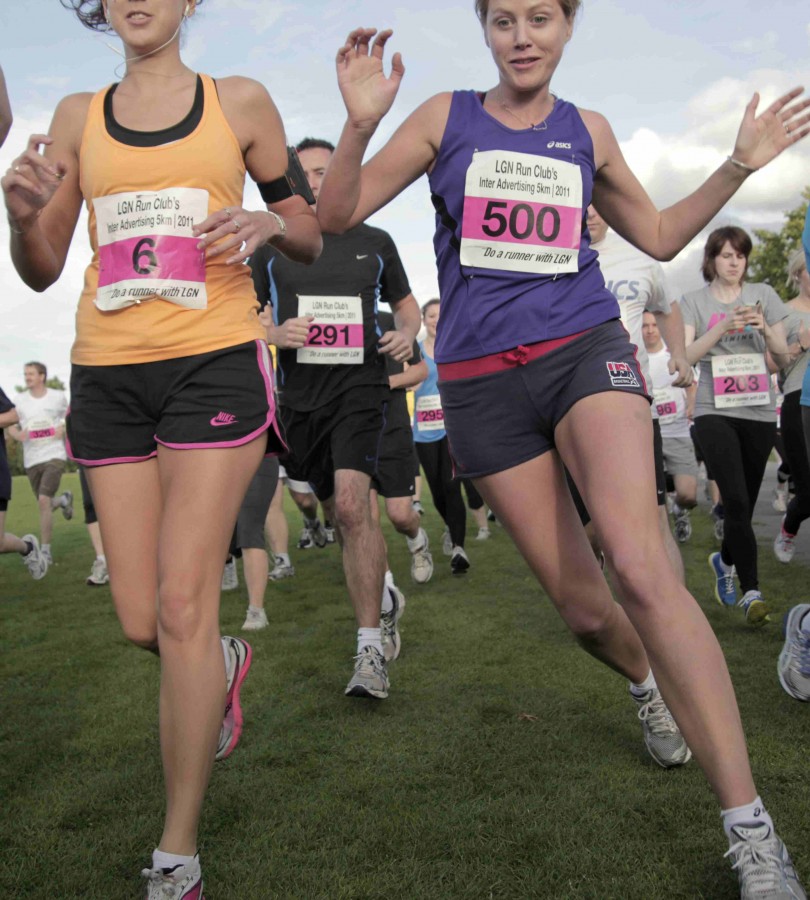 Serena from Pitch PR dances her way past the LGN photographer at the start
The results:
LGN Run Club's Inter Advertising 5km 2011 edition demonstrated a shift in LGN Run Club strength away from the creative & historical powerhouses and into the arms of cost per thousand / high frequency media passion.
LGN 5km trophy on the move:
The closest race in it's 5 year history saw the LGN Inter Advertsing 5km trophy move from it's long term DDB Paddington home to a new West End display cabinet owned by OMG UK - congratulations to all the OMG team!
It may come as no surpise to learn since January OMG UK have joined the ranks of companies getting fitter via our in-house LGN Run Club service.
The LGN team would like to salute DDB for putting up the best possible defence of their crown by actually running 5 seconds quicker as team than when they won the trophy in 2010, but it wasn't to be and in fact their fastest time did not secure the second step on the podium as another media agency in the shape of Carat UK showed that 2011 was indeed the year of the calculator.
Closer than Glenn at 8am on the Northern Line:
The results were so close amongst the top four teams that LGN had to cross refence all chip timing results with video footage of the finish line to confirm each individual runner. And indeed only 66 seconds seperated OMG UK's victory from Carat's noble charge, with DDB only 11 seconds slower than Carat UK and superb team running from 2009 winners McCann Worldgroup in 4th place just 41 seconds adrift of DDB!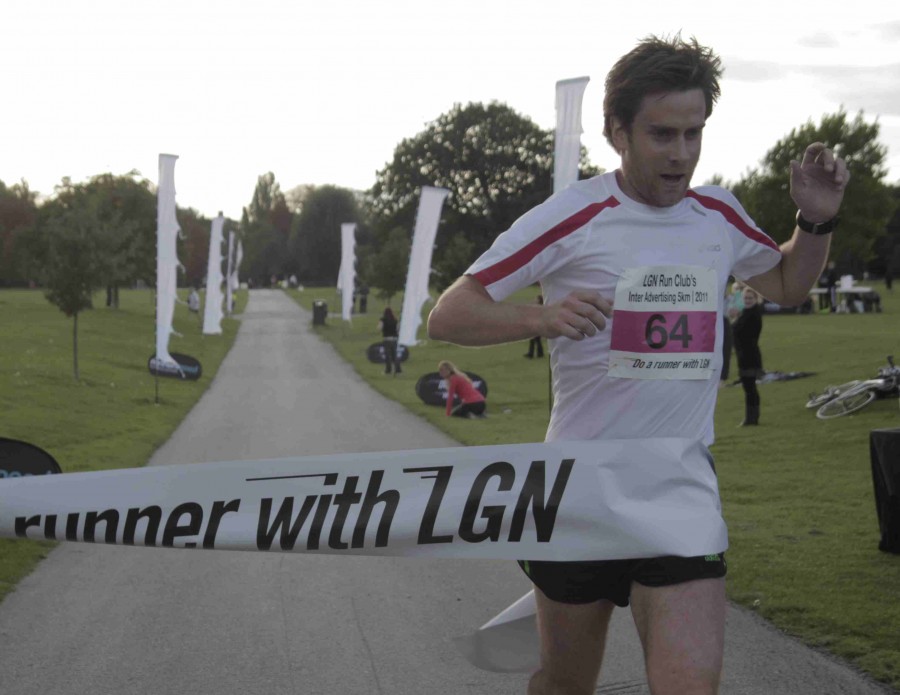 Matt Pointon breaks the tape as first man for team Fallon
Individual top 3 results for Men & Women:
| | | | | | |
| --- | --- | --- | --- | --- | --- |
| | | | | | |
| | | | | | |
| | | | | | |
| | Alastair Mcgeoch-Williams | | | | |
| | | | | | |
| | | | | | |
| | | | | | |
| | | | | | |
| | | | | | |
| | | | | | |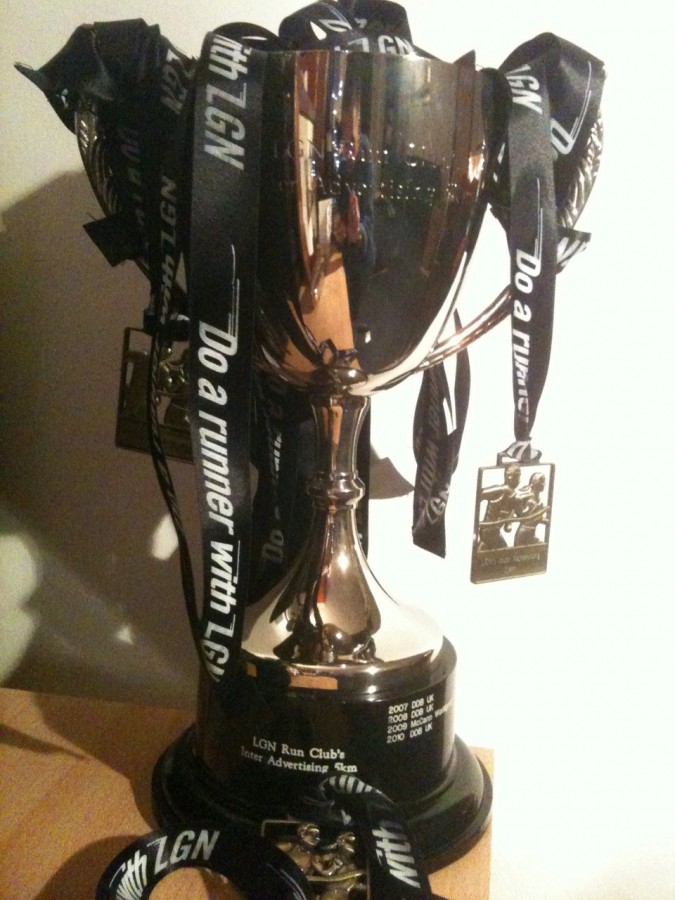 OMG UK are the 2011 victors and new proud owners of the LGN Inter Advertising 5km trophy
Philippa Brown CEO of Omnicom Media Group UK said:
"We are very pleased and proud to be the winning team of the LGN 5km Inter-agency race this year! We had a strong team last year, however through the help of the LGN running club, joining forces with the whole of the Omnicom Group and even more determination than ever we were able to see off the other agencies this year."
And the all important top team podium places:
Full results:
The full results for all complete teams and individuals are available to download from bottom of this page and additional pictures are available via http://www.flickr.com/photos/lgn-run-clubs/
Congratulations once more to our new Inter Advertising 5km winners from OMG UK and indeed for all runners for making it such an enjoyable running fun-fest.
LGN feedback:
Please leave feedback at the the bottom of this page or via info@lgnwellbeing.com as we are keen to improve the event for 2012 and persuade more teams to feel the LGN lactic love.
And finally:
And finally to reflect on a wonderful day in Regents Park please enjoy your very own Inter Advertsing Pamplona-esc Bull run via clip below and savour some of the pictures in our LGN photo gallery.
Happy running from all the team at LGN!
LGN Newsletter
Keep up to date with LGN events, announcements and more.